Learn How You Can Have Cleaner, Healthier Air in your Home, ALL Year Long.
Avoid Particulates, Viruses, Fungus, Bacteria, Mold and Bad Odors
Here's What We Breathe in Our Homes
This diagram shows what is in the air of our homes. Our UV Air Purifier will address Bioaerosols & most volatile organic compounds. (V.O.C.'s are what causes the "new car smell") A high efficiency air cleaner is required to remove particulate matters from the air, like pollen, dust & dirt & also is a vital and important part in helping maintain a healthier indoor environment.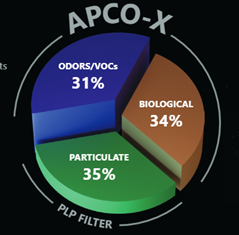 The UV Air Purifier along with a High Efficiency Filtration system is the "100% Clean Air Solution" of most indoor air problems.
The Problems Are:
The Solutions Are:
Particulates 35%
(Dirt, Dust, Pollen Spores)
According to the CDC, indoor air pollution includes: particulate, biological, and VOC/odors.
Bioaerosols 34%
(Micro Organisms, Mold, Bacteria, Virus, Fungus)
Filters remove Particulates such as dirt, dust, pet dander etc.
Volatile Organic Compounds 31%
(Chemical Gases, Solvents, Glues. Odor Causing Contaminates)
APCO-X combines UV-C light and EvercarbonTm cells to safely reduce the remaining two-thirds: odor-causing VOCs and biological contaminants such as mold, bacteria, and viruses.
A micron measures one-millionth of a meter wide.
A human hair is approximately 100 microns in diameter.
Allergy-causing pollen particles range down to 5 microns, mold and spores to 1 micron, and viruses and bacteria to .01 micron in size.
The Solution
An APCO-X UV Air Purifier
PLUS
an Aprilaire 5000 Electronic Air Cleaner
is the 100% Solution to Clean Air in Your Home
APCO-X UV Air Purifier – Sterlizes biological contaminates and neutralizes odors and toxic particulates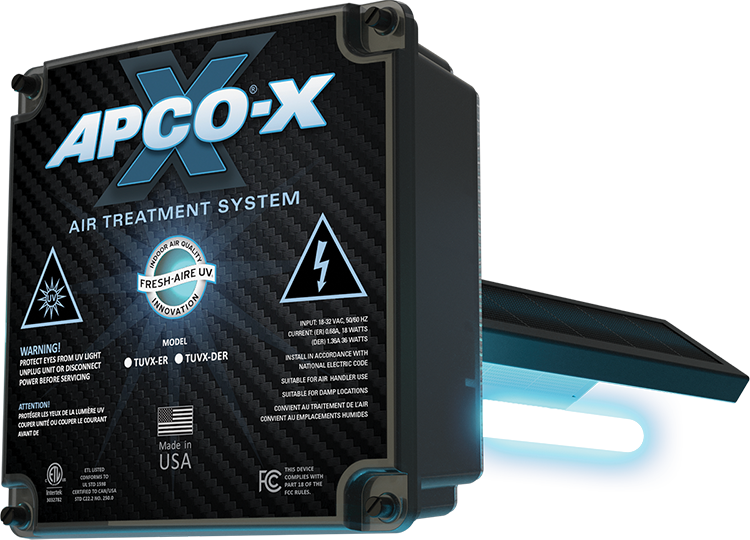 Learn How You Can Have Cleaner, Healthier Air in your Home, ALL Year Long.
Click the button to Download a PDF of our brochure to learn more about APCO-X. The total home active air purifier.
AprilAire 5000 – The Whole Home Air Cleaner!
Aprilaire gives you unprecedented control.
With the only visible whole-home air cleaner control on the market * you'll feel confident that your air cleaner is working to help keep every room in your home clean and comfortable.
SIMPLE ONE-TOUCH CONTROL ™
Constant Cleaning– Runs 24 hours a day, for homes with pets or individuals who suffer from allergies or asthma.
Automatic- An every-day setting that cleans 30 minutes every hour.
Event Clean- A great setting for when vacuuming or when visitors bring animals, smoke or other irritants in the home.
Allergies- For those days when pollen counts are high, this setting runs for 24 hours straight, then turns off.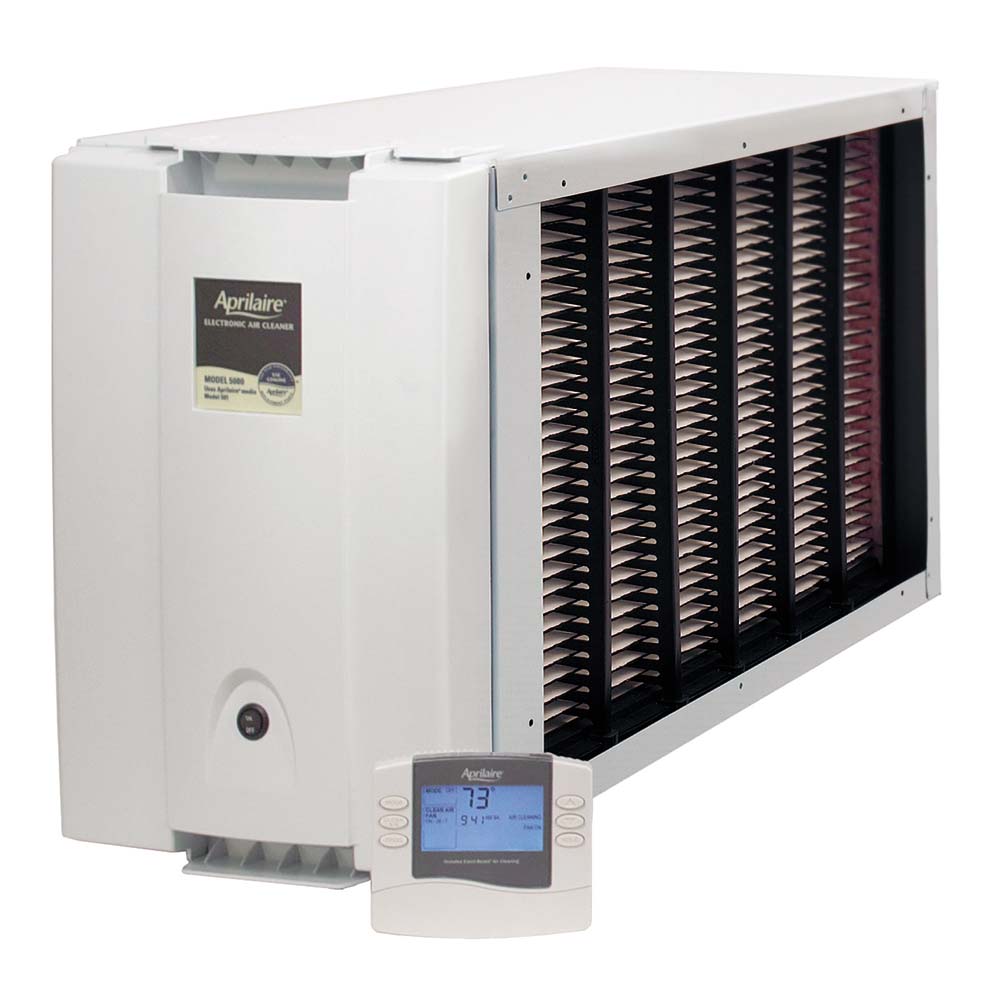 Call For An Appointment Today!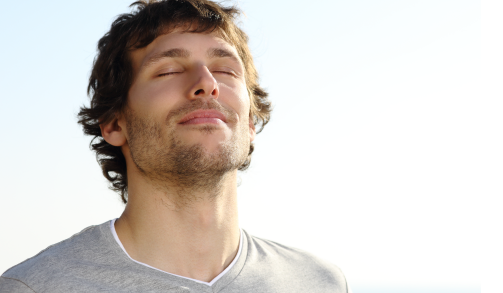 It's Time to Breathe Easy
When it comes to breathing deep in your own home, you need to be confident that the dust and other little critters you can't see are removed from your air. Many times you can reduce or eliminate your family's allergies, illnesses, hay fever, and respiratory challenges — just by the type of air filter you install in your home air system.
Why not breathe easier today like my family did? Here's our story.
My Family Is The Best Reason Why I Recommend Aprilaire Air High-Efficiency Cleaners?
– By Alan B. Fisher,
President of FisherAir
It started back in 1988, shortly after we had purchased our first home and where we still live today. I was excited (and so was my family) to finally have air conditioning. We replaced the 1960's heat only furnace with our first heating and air conditioning system along with an electronic air cleaner that was very popular at the time.
With four children and their friends running in and out all the time, and an unfinished yard (it was a fixer upper!), there was a lot of dust plus whatever else we couldn't see. This very popular electronic air cleaner required that it be cleaned (maintenance) every thirty days.
My wife did not like the "crackling sounds" it seemed to make on a regular basis and I did not like the monthly maintenance recommended by the manufacturer.  I was disappointed, to say the least, in this product. I had expected better.
I thought there must be something better in the way of a quieter operation and lower maintenance costs and still achieve a good indoor air quality. After a phone call for "help" to one of our equipment suppliers, an Aprilaire representative came to my office.
I installed the Aprilaire in my home along with new air duct system and equipment.
I performed regular maintenance on the equipment and changed the filter annually. It was amazing how it cleaned the air. I started immediately offering these Aprilaire High Efficiency Air Cleaners to customers. If it does this good for me, I thought, it will do the same for my customers.
That year – 2009 – I replaced the air conditioning system with an Amana High Efficiency air conditioning and heating system and of course, installed a new Aprilaire Electronic Air cleaner.
When I removed the old air duct system and equipment, it was practically as clean as the day it was installed 13 years ago.
What does this all mean?
First, we ran just the fan/blower regularly to maximize the efficiency, the dust was reduced dramatically and the air was much better to breathe for my family.
Second, it only required a media replacement once a year, which meant low maintenance costs, and less hassle for me.
Third, I never had to spend money to have my air ducts cleaned. This saved me hundreds each year.
As far as I am concerned, the Aprilaire Air Cleaners are everything they claim to be. That is why since 1995 FisherAir recommends the Aprilaire High Efficiency Air Cleaners without hesitation to everyone who is seeking a better indoor air quality environment for their home and family. And with a 100% Satisfaction or Your Money Back Guarantee, "You Just Can't Lose!"