FUNDRAISING MADE EASY!
Reel in a donation for your organization today!
FisherAir is not just a family owned business, we're members of the community, and we live here too. We want to support our community and the organizations our customers support.
REGISTER YOUR GROUP
Call us today at
(714) 529-9600
to see if your organization qualifies for the FisherAir Give Back Program! FisherAir supports most non-political and non-profit organizations.
ENROLL IN M.S.A
Call us today at
(714) 529-9600
to see if your organization qualifies for the FisherAir Give Back Program! FisherAir supports most non-political and non-profit organizations.
GIVE BACK
After you or your family and friends enroll in our M.S.A. Program, FisherAir will contribute a portion of the enrollment fee to the qualified group or organization you choose. Selected organization needs to be currently participating in the FisherAir Give Back Program.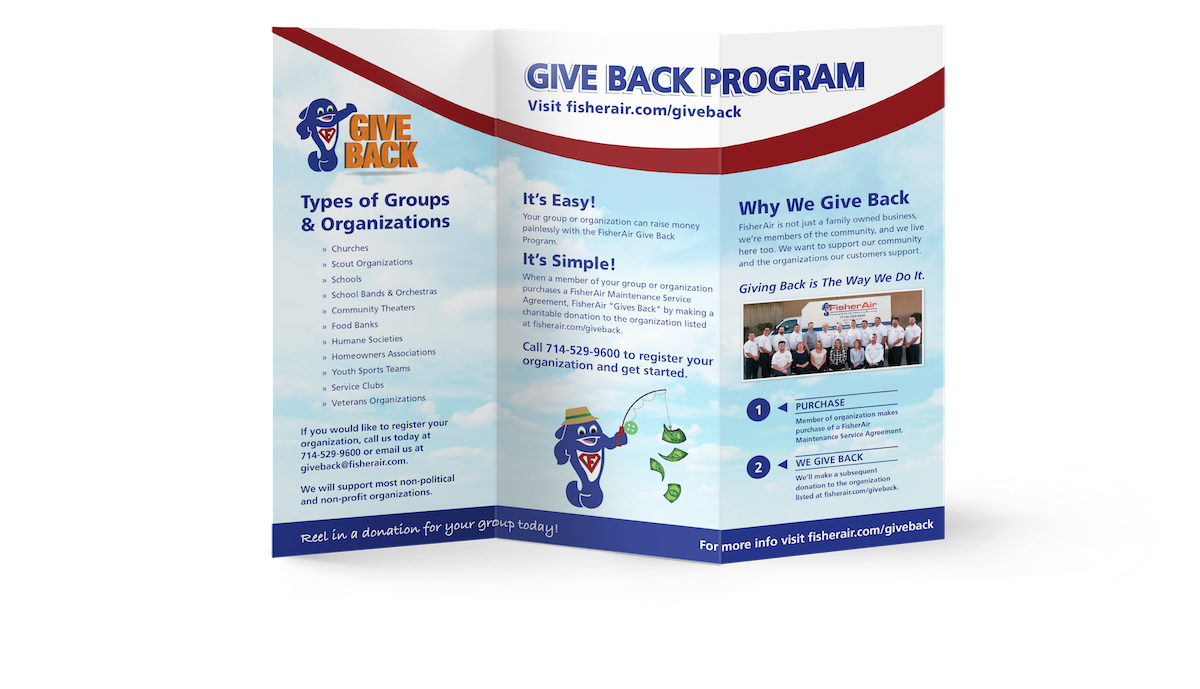 Give Back Today
Help your charitable organization or Church raise money easily with the FisherAir Gives Back program.
Call 714-529-9600 to register your organization and get started today.
YOUR MAINTENANCE SERVICE AGREEMENT BENEFITS
Free diagnostic service call with Repair
Priority service for emergency repairs
Free 5-yr. Extended Repair Warranty
FisherAir is a family owned business, and we're members of the community.
We want to support our community and the charities our customers support
PARTICIPATE IN THE FISHERAIR GIVE BACK PROGRAM
Service That's All About…
Qualified Groups & Organizations:
Churches
Scout Organizations
Schools
School Bands & Orchestras
Community Theaters
Food Banks
Humane Societies
Homeowner's Association
Youth Sports Teams
Service Clubs
Veteran Organizations
Every Homeowner Can Benefit From…
Lower Utility Bills
Better Indoor Air Quality
Annual Air Conditioning Precision Tune-Up & Safety Inspections
Annual Heating Maintenance Service & Safety Inspections
Equipment Care & Upkeep
24/7 Emergency Heating & Air Conditioning Service
High Efficiency System Performance
Home Insulation for Better Comfort & Energy Savings
Fast & Friendly Service
Solutions for Hot & Cold Spots in the Home
Please complete this form to purchase a FisherAir Maintenance Service Agreement and participate in the FisherAir Give Back Program associated with your organization.
To Register Your Organization, call us at 714-529-9600 today!
If you're looking for Volunteering Opportunities in our community,
visit JustServe.org!
Maintenance Service Agreement (MSA) / 2016 Terms & Conditions
Inflation Fighter Guarantee: This is the renewable amount to the original owner each year for as long as the original equipment is installed and certified by FisherAir Services to be operating safely. ServicePlus: Lifetime; Basic: Five (5) years.
Entire Agreement: The agreement and these terms and conditions establish the complete agreement between FisherAir Services and the Customer, and supersede all other agreements either written or oral, concerning the subject of this agreement.
Rights To Cancellation:
a. Customer: may terminate the Maintenance service agreement by mailing written notice to FisherAir Services. In the event of termination by the Customer, a written notice of cancellation terminates the MSA agreement on the last day of the month in which it is received.
b. Company: FisherAir Services reserves the right to immediately terminate the maintenance service agreement in the event: (1) heating and/or air conditioning system or accessories are installed in Customers home by a company other than FisherAir Services during the terms of the agreement, (2)Customer has any part of the heating and/or air conditioning system serviced by a company other than FisherAir Services, (3) Customer fails to fulfill the payment terms contained in this Agreement. FisherAir Services reserves the right to terminate the agreement for any reason.
Money Back Guarantee: Customer may receive a prorated refund of the purchase price of the agreement. However, any potential refund will be adjusted in dollars equal to the benefits received in discounts or savings for the current term.
Transferability: The MSA agreement is transferrable to the subsequent owner of the home in which the equipment is installed, provided that FisherAir Services receives written notification of the sale of the property within thirty (3) days of transfer. Final approval is at the discretion of FisherAir Services. At time of transfer any balances must be paid for in full.
Equipment Access: Customer agrees to provide reasonable and safe access to the equipment service area, including safe access from pets-animals.
Filters: FisherAir will provide a one standard size disposable 1″ filter per system at no additional charge, if applicable. All high efficiency filtration units and media type filtration system replacement parts are excluded, including special order and irregular sizes, which are invoiced from the standard price guide, less any applicable discount.
Payment Terms: The MSA may be paid monthly. Failure to pay the amounts billed when due, including all charges for parts and other materials, shall relieve FisherAir Services of the obligation of further honoring the MSA agreement, and cancels the agreement.
Extended Repair Warranty Limitations: This MSA warranty is applicable to most repairs as long as the Customer maintains a current MSA agreement with FisherAir Services and all terms and conditions are met. If the MSA agreement is cancelled by either party, expires or is not renewed, any and all repair warranties associated with the MSA agreement's extended warranty clause default to one year from date of original repair. The extended warranty does not include or supersede manufacturer's warranties or an original installation warranty, where applicable. It does not apply to non-billable repairs. Replacement repairs of compressors, heat exchangers and coils have a manufacturer's only warranty and standard one year labor warranty. A service call/repair as a result of forces beyond the control of FisherAir, such as Acts of God, utilities/power companies power failures, vandalism, destruction caused by others, and tripped circuit breakers are excluded from this warranty. Other limitations may apply.
Recommendations not performed: Should any irregularities in the system be discovered as a result of an inspection or service, FisherAir Services will provide for the Customer recommended corrective measures. Repairs or recommendations will be quoted on a flat rate basis and performed only after Customer authorization. If Customer declines or delays recommended repairs or options, and a failure is experienced, it is the responsibility of the Customer.
Unforeseen Conditions: It is understood that FisherAir Services will use the utmost care in performing this service. However, FisherAir Services shall not be liable for failure to discover conditions necessitating repairs or replacements, nor shall any inspection /service be construed as an approval or guarantee of the equipment condition or the quality of the indoor air (IAQ).
Mold Like Substances: During the performance of this service, should a mold-like substance be discovered in the area(s) of the HVAC equipment, air duct system, return air register, and so forth, we advise you to have a complete diagnostic evaluation of the mold-like substance. FisherAir Service is not an expert in the area of mold investigation or identification; therefore, it would be advised that you consult with a certified expert in that field for further investigations related to any possible mold related conditions.
The ServicePlus and Basic Agreements: For residential dwellings only.
System Accessories/Enhancement Exclusions: All maintenance agreements exclude specialized system enhancements and accessories such as zoning systems, home automation systems and energy management systems. Coverage for these is in addition to the initial investment amount. Repairs to these types of units have a one year labor and parts warranty as per the manufacturer's written warranty.
Contractors are required by lay to be licensed and regulated by the Contractors State License Board. Any questions concerning a contractor may be referred to the Registrar of the board whose address is: Contractors State License Board, 9835 Goeth Road, Sacramento, CA. Mailing address: P.O. Box 2600, Sacramento, CA 95826.